Over the last few months I have had the distinct honor and opportunity to engender some really interesting and insightful new relationships with folks across the globe through online social spaces such as Twitter, Facebook, and LinkedIn… and I like it! From design inspiration, latest web iteration talks, inspirational and thought provoking conversations, and even work… yes, precious work! But the underlying lesson in all of this is how the act and art of listening is not only helpful but crucial in these—and all—situations in relationships.
The Buddha Blueprint
One great client I was able to do a relatively quick e-book cover design for was Nadia Ballas-Ruta of Happy Lotus Lifestyles. Working with her was a true pleasure, and her natural way of being instilled in me a great sense of listening and hearing that allowed the ideas in her head to take form in my mind. And on my computer! The e-book, The Buddha Blueprint, is a great primer in the basics of Buddhist practices and how these all create an architecture upon which you develop your own Buddha Nature within yourself and your life. Through various phone calls, emails, and even Tweets we were able to communicate across the country and create a wonderful cover for her e-book: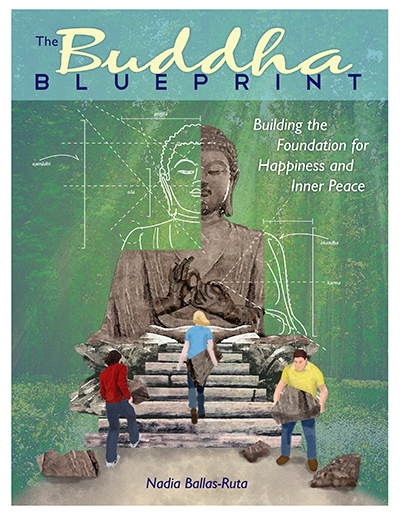 ---
Five Directions Consulting
Another great connection made through these various channels has been with Maia Duerr – who I'd like to come up with a quick two or three-worded phrase to describe her… but I just can't. Even five words wouldn't work, although I have been lucky enough to be working with her on her Five Directions Consulting rebranding. Having extensive backgrounds in non-profit work, communications, and cultural anthropology, through Five Directions Maia supports nonprofit organizations with mindful marketing and specialized services such as program evaluation, employee matching, and member/donor relationship building, etc.
In order to capture exactly what iconography would work to entail all she offers—and basically made her smile each time she looked at it—I took the time to really process through the content she provided, hear what she was saying and not saying, as well as acutely listen to her verbal feedback in every step of the process. As with many logo development processes, it took on about three stages, and luckily Maia's positive and thoughtful feedback gave me a lot to work from. Here's what we came up with: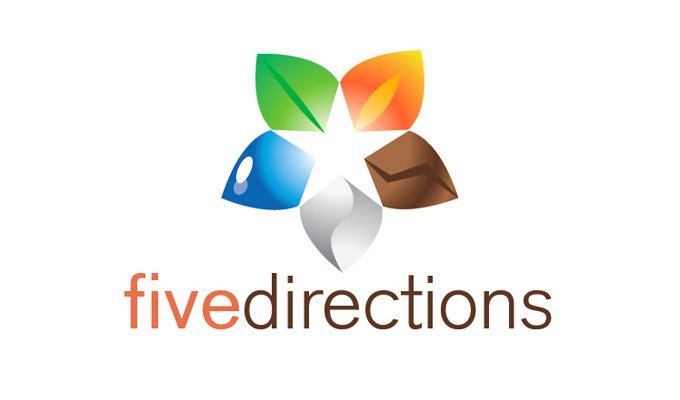 In the end, I am very happy with the logo and I have more than one email proving that Maia is as well! Shown above, each of the "leaves" is actually a symbol for an element of nature: fire, water, metal, etc. Maia and I have been having a great time aligning her business practices with each of these in hopes to maximize the graphic use of the logo! Also, she's a fan of the glowing star that forms in the center, as are others! One interesting phenomena that has occurred recently is that Maia decided to unveil the logo on her Facebook Business Page, and the reviews we've been getting are wonderful! And almost instantaneous! See below to get a glimpse of the first few reviews! Go Social Media!