As of late I have been finding myself doing more and more strategic marketing work within the realm of email blasts and e-newsletters. They say no one will come to your house if they don't know you've built it, so I have been collaborating with a variety of clients such as BellaVista Trattoria & Pizzeria and Marianne Mitchell and to create full-scale email marketing campaigns for the 2009 year.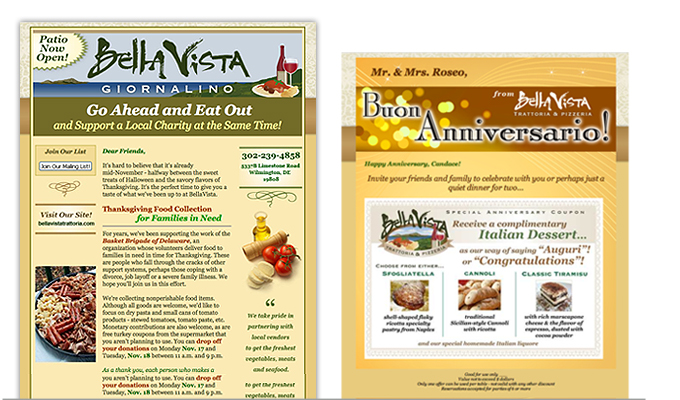 Working within the style guide and branding schemes developed as we were creating their online presence, I've been strategizing with clients on the factors that most effect a successful email campaign: audience viability, topic and content conception, market-specific timing, list generation, creative management and analytics review. By using such HTML email services as MailChimp, Constant Contact, and good old hand-coded email techniques, I have been excited to see such a great return on my client's investments as we use Google Analytics to pin-point certain target markets, interest and timing statistics, and develop forward-thinking plans for future emailers and supplemental marketing initiatives.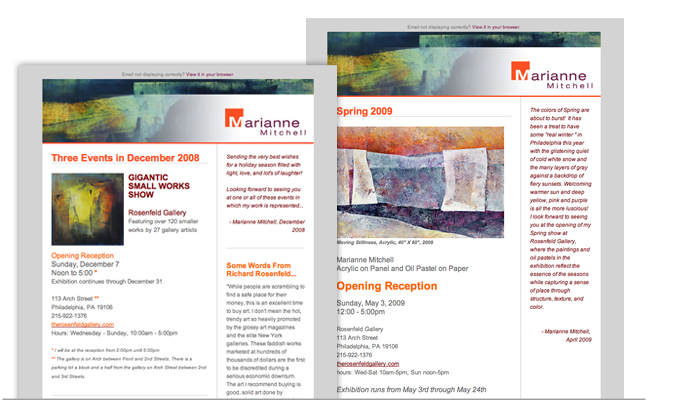 So, in order to keep a running gallery of these works so far, I have created a small page that I will update with quick shots of some of the emailers I've done. Have a look and let me know what you think!