After the rework and launch of my new site I have been very busy helping a lot of clients get ready for the Spring and Summer seasons. And as with most of my work, there is a definite thread of me helping people help people over a period of time. Here are some highlights from early 2014:
Making Ends Meet
My continuing thanks to the fine folks at the Center for Policy Initiatives San Diego for tapping me to work with them on some very interesting and important graphic pieces over the last few years. This February was no different as we worked quickly and effectively on an exposing report about urban inequality and working poverty in the San Diego region. On the heels of the Fight for 15 campaign and a move toward raising the minimum wage and instituting paid sick days, this report couldn't have come at a better time. Download the PDF.
---
Sigma Cares
Sometimes you meet a great client, and when they take off on their own to become a bigger part of helping their community, it's great to be brought along. Such is the case with James Larks, Vice-Presdent of the Sigma Cares Foundation. Sigma Cares is a non-profit public charitable organization that promotes implementation of the initiatives or mentorship, leadership, scholarship, and social services in Delaware and beyond. And when they needed an update to their logo, I was happy to know I was the first James called.

---
Bike More Mike's Kids 2014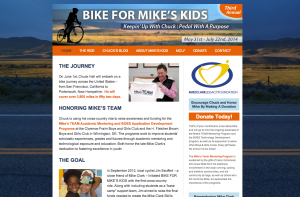 For a few years now I have been working at Incompra to help keep the Bike For Mike's Kids cross-country cycling tour looking good and getting great attention while generating donations for the Mike Clark Legacy Foundation. We have been very successful through two tours to create a great visual campaign, and this year we are taking the reigns again, so to speak. The site, a WordPress-based CMS, was created to be accessed and updated by the riders on their way cross-country: through robust blog posts, comment conversations, and map/schedule updates… all from their phones. Have a look as we put on the finishing touches, and tune in this summer as this year's rider, Chuck, embarks on this cross-country ride for a great cause.
---

BellaVista Trattoria Marketing
Back in 2008, I met Candace Roseo, an up-and-coming pizza extraordinaire and pillar of the Wilmington community who just opened BellaVista Trattoria. BellaVista opened as Delaware's premier authentic Italian restaurant with everything you can imagine including a chef with an Italian accent, a menu teeming with classic and traditional dishes, and the best pizzas in town. Check out their site we created to learn more about BellaVista, and see below some materials I've been busy helping Candace with this winter: